Here's where you'll find a list (composed by other chocoholics) of bricks and mortar places to get great Chocolate. We cover the entire US, so put your favorite place on the map
Do you know of a bakery that features a to die for chocolate pastry, an out of the way chocolate shop run by a talented chocolate artisan or a quaint store that somehow is stocked with a fine selection of fabulous chocolates from far away places?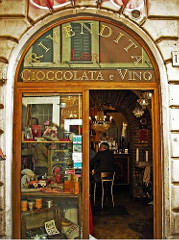 Often word of these places doesn't reach those with a passionate need to know.
Well in this well hidden, secluded corner of internet, frequented only by true Chocoholics, you're able to discuss your latest finds, exchange experiences and discover great sources of chocolate from fellow Chocoholics.
You may be hesitant to share this knowledge, concerned that the shelves or pantries of your favorite source of great chocolate may soon be barren if the news get's out, But be assured these pages are only visited by responsible Chocoholics who share your concern and practice sustainable chocolate consumption.
Want to post a comment? See our Forum Usage guide.